WordPress platform is the most popular website builder with over 47% of websites globally running on it
As an SME business, you may find yourself pondering the question: how important is a website for my business? Well, the answer is simple: in the digital age we live in, it is essential. 
You may then wonder how to build one? Small and medium businesses generally require a simple and effective web presence that can generate leads that result in sales. This is why many opt for website builders since they provide simple tools and features that enable them to set up and manage their websites.
WordPress is the most popular website builder with over 47% of websites globally running on it according to WordPress. In this article, we will look at why WordPress is so popular and why small and medium-sized businesses need to use it to build their websites. We'll also highlight how White Hat Matt has used its features and tools to provide much-needed solutions for our small to medium-sized clients.
What is WordPress?
WordPress was initially known as a blogging tool, yet over time it has been refined with tools and features that have enabled it to become a fully-fledged CMS (Content Management System). It provides a simple graphical user interface that can be used to build any type of website. As a CMS you can use it to add extra features to a website, set up necessary tools and settings, and edit, organize, or publish new content. Here is a list of eight features you might not have known about and why you cannot live without them.
But, Why WordPress?
According to WordPress stats for 2021:
About 62% of the top 100 fastest-growing companies in the U.S. use WordPress.

Every day, over 500 new sites are created using the free version of the WordPress package.

Over 455 million sites worldwide use WordPress.
These are positive and reassuring indicators for small and medium-sized businesses looking to build their first website. So let us examine some of the reasons why WordPress is so popular.
WordPress is an infinitely adaptable platform that keeps changing to keep up with the dynamic world of business and technology. 
WordPress is Flexible.
WordPress is highly customizable. This is due to tons of free and premium themes available on the platform. They can be used to change the appearance and feel of the website to suit any business brand.
WordPress has thousands of readily available plugins that can be added to extend its functionalities. It, therefore, allows businesses to use their website to provide a unique user experience that satisfies specific needs that their visitors might have.
Moreover, WordPress can be modified to create distinctive websites such as full-fledged e-commerce stores, social networks, applications, and many more.
It's a platform that enables your website to scale with your business. Small or medium-sized businesses can easily add and modify their pages and website functionality as they wish.
WordPress also enables you to take advantage of a large community of web designers and developers. A WordPress designer or developer can do the legwork of creating advanced functionality for your site, then hand off the day-to-day operations once their work is complete. This. It is an infinitely adaptable platform that keeps changing to keep up with the dynamic world of business and technology.
WordPress is User Friendly
While it is true that WordPress is not the only free website builder, it tops the list because of its simplicity.
Drupal and Joomla are among WordPress' fiercest competitors. However, both require some level of technical understanding and familiarity with HTML, CSS, and PHP programming languages to work with. WordPress, on the other hand, is very simple and doesn't require tech-savvy to run it. This makes it easy for experts to design and develop a site, then pass it off to the user/business owner to manage without any difficulty.
WordPress has native support for user management. You can easily set roles and permissions if you want to allow multiple users to access your website backend.
As for the dashboard within the backend, it's simple and easy to use. Through the dashboard panel, you can easily publish and edit pages, manage and organize content and media, set up features and plugins, and many more.
WordPress sites are mobile responsive and SEO friendly out of the box.
Also, note that WordPress comes in more than 70 languages. This makes it ubiquitous.
WordPress Has an Active Community
WordPress is an open-source website builder that is maintained and developed by volunteers from the WordPress community. This means you can always find someone to guide or assist you when asking for help on just about anything. The active community is always buzzing with new ideas and tips that can be used to get around obstacles. You are pretty much guaranteed to find swift help should the need arise.
There is tremendous input from developers to keep WordPress fresh and up to date. As a result, WordPress will always offer website solutions that meet current standards and trends. Regular updates also ensure that it remains robust and secure.
Why Do You Need a WordPress Hosting Service?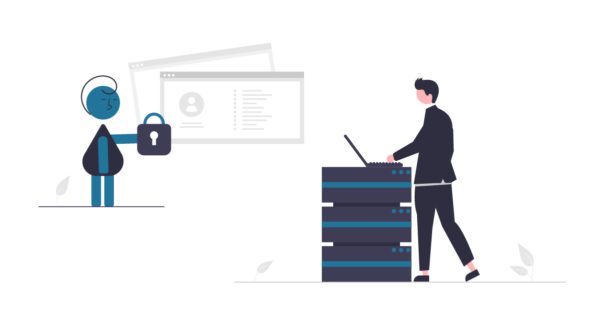 What is website hosting? We can explain it using an example of a mobile home. The home is your website, the rented land is your hosting service and the postal address is your domain name. In this case, you can pick your address and have it pointed to whatever website (mobile home) you want. You can also migrate your home to a different rented land; certainly, you can also change your hosting service.
Thus, a WordPress website hosting service is the process of storing your website content and media online on a web server for users to be able to access it from anywhere over the internet.
Unfortunately, anything that is online is susceptible to hacking and downtime. Therefore, it is paramount for any SME to have a reliable, trustworthy, and up-to-date hosting service provider. White Hat Matt offers small businesses an all-inclusive premium hosting maintenance service that is safe and secure.
If you would like to learn more about why having a WordPress maintenance plan is so important, please check out this WordPress Maintenance article that Matt wrote on behalf of Sayenko Design.
Our Top Pick Plugins for SMEs
thousands of free and premium WordPress plugins can be installed and managed within the WordPress dashboard
WordPress plugins are software components that extend unique functionalities to WordPress. In simple terms, plugins are WordPress apps.
Fortunately, there are thousands of free and premium WordPress plugins that can be installed and managed within the WordPress dashboard. They all perform unique functions and can be used to achieve specific results if used properly. These powerful extensions can be used to transform an ordinary website into a user-oriented platform that delivers a specific service or performs a distinct function.
It can be overwhelming for a beginner or an average user to pick which plugins are necessary for their website. That's why we found it appropriate to list our top plugins for small and medium-sized businesses. These WP plugins perform basic functions that just about any website would need. They include:
Remarkable Solutions We Have Achieved With WordPress
It's fair to say that WordPress has completely changed our lives. The first few websites we built were not all that easy, but also not all that complicated.  As time went on, we built upon our skills and know-how in the WordPress arena.  However, our skills wouldn't have been stretched without the needs and input from our clients.  Although it's a cliché, the maxim "if you can dream it, you can do it" is appropriate when it comes to WordPress. Here are a couple of examples of custom solutions that have proven to be invaluable for our clients.
E-Commerce Websites
We've had quite a few website projects needing e-commerce functionality in addition to copywriting and web design. However, according to famous copywriter Ray Edwards, "it's the words that sell." We knew these websites wouldn't do their job effectively with the typical eCommerce product page design you've likely seen before– i.e. a few images on the left, short description on the right, and longer descriptions contained within a tabs element below.
In other words, these websites needed a complete sales argument in addition to simple e-commerce pages and functionality.
One website we built, sentinelcontrolproducts.com, needed to be able to have the option for visitors to do self-checkout for small orders, while larger customers would be directed to contact sales.  We came up with a dual CTA on the homepage to handle this task. The option to contact sales opens up a cool contact form pop-up, while the "buy" option leads them to a simpler product page where customers can look at the final details of the product and complete their order.
Appointment Booking Functionality with Appointment Reminders
Websites that rely on an initial free assessment or discovery call can often be amenable to using an appointment booking tool rather than a simple contact form.  Some of the advantages include not having to go back and forth to find a time to talk with a potential client, and you also get a bigger commitment upfront.  In addition, you can use the appointment booking tool to schedule paid virtual appointments and meetings.
We created such functionality for an Arizona Fashion Stylist that needed us to build a website. We were able to get the appointment booking plugin to send out automated text and email confirmations and reminders once an appointment was booked, all within WordPress! This makes it even more likely that potential clients will show up for their appointments, and business owners like having the reminders too!
If you want to check out the solution, see https://rebekahfloydstyle.com/
CRM, Email, and Marketing Automation
When we began building WordPress sites, we thought that simply increasing the number of leads and sales was the ultimate objective of a website.  But as we delved deeper into the needs of small businesses, we realized that some businesses were flush with customers and needed to streamline their sales, operations, and customer service.  Since this realization, we have been thinking of ways to automate lead follow-up, select sales processes as well as select customer service functions using our websites.
Possibly the coolest example of automation that saves lots of manual input we have achieved is for a local dog training company in the Greater Seattle area, Apex Canine Training.  While their initial contact form is fairly simple, they have a lengthy and somewhat complex intake and liability release form.
We were able to recreate the .pdf version of their intake form as a multi-step WordPress form that even includes the ability for clients to sign their waiver.  This data then goes into the Hubspot CRM using custom properties and a Hubspot integration using our form plugin of choice, Forminator. 
The client even receives a copy of their form entries upon completing the form.  This has reduced manual back and forth emailing between Apex Canine Training and their clients considerably, allowing them to do what they do best, which is training dogs to become well-behaved members of the family.

Convinced yet?
WordPress has a multitude of tools and features that can be customized and combined to drive traffic, generate leads and convert leads to loyal clients.
We've discussed in depth why WordPress is such a powerful tool that can be exploited by SMEs. It has a multitude of tools and features that can be customized and combined to drive traffic, generate leads and convert leads to loyal clients. Unfortunately, these benefits can quickly lead to disastrous results if not properly managed.
The abundance of choices can be overwhelming at times. It's also understandable that as a business owner you might not have the time to learn about all the existing and new tools and keep up with current trends in your website. Sadly enough, failure to do this might render your site obsolete and ineffective in the long run.
This is why White Hat Matt offers to help create successful and effective small or medium-sized business websites using WordPress. We have the skills and experience to identify what tools and features can be utilized to achieve specific results. We also believe that through the right guidance, anyone can discover why WordPress is the best website builder for small and medium-sized businesses.