Grace Community Lutheran Church
Church Web Design, Copywriting, SEO
Harmonized Website Functions for a Seasoned Church Family
Grace Community Lutheran Church (aka Grace at the Place) is an enthusiastic group of Christians that live in the Union County and La Grande area. Grace at the Place is more than just a body of believers, they are a family that is set apart to honor God to advance His kingdom through discipleship, the study of God's Word, and fellowship.
While the church had been going strong for about 20 years, they were still facing an all-too-common set of problems.
"No one can find us without a website."
"We can only communicate via phone and email."
"We've settled in and it is time for us to grow, but we don't know how to do that."
Based on this set of issues, we decided that the best solution would be a website that both attracted new visitors and members as well as streamlined communication and collaboration within the church.

Skills Needed
SEO, Copywriting, Local SEO, Web Design, WordPress

Tech Stack
WordPress, Mailpoet, Zoho Mail
Our Solution: Using WordPress to It's Fullest
One of the hallmarks of this project was to make as many parts of the church's marketing completely integrated with WordPress in order to reduce the need for separate accounts, software subscriptions and logins.  Many of the members of the church are "well-seasoned" as they would say, and have more difficulty picking up new technologies.
Christian Copywriting
While the church had been producing content for many years, they did not have a primary tool or written asset to attract new members to the church.  Copywriting for a church was an exciting challenge for us as many of our staff are evangelical Christians and had been trained under the famous Ray Edwards, who is himself a Christian copywriter.
Balance was key to creating the website copy as Grace at the Place is "traditional without being overly formal." We were able to blend in content that attracted new visitors while staying true to the Lutheran heritage of the church and its membership in LCMC, Lutheran Congregations in Mission for Christ.
Native Donation Module
Prior to launching the site, the only way to give to the church was by offering cash or check either during the service or by mail.  We added an online donation module to reduce friction in the giving process as well as create a system for tracking givers and donations.
Event Calendar Functionality
Grace at the Place runs some cool one-off events in addition to their regular service and Bible studies, but you had to be "in the know" or already on the church email list to get the word about these events.  We created an official event calendar where folks who already attend the church and new visitors alike can learn about special events.
Native Sermon Audio Streaming & Downloads
We knew most visitors and church members would download and listen to sermon audio directly from the website rather than through a platform (like Soundcloud, Itunes, etc.), therefore we built in a native audio player and created a workflow to publish new sermon content each week.
On-Page SEO
We wanted local residents of the Union County and La Grande, Oregon area to be able to find the church website.  We optimized the site for "Church La Grande" and several other local keywords in order to attract local visitors that might be able to attend.
Native Email Marketing
While the church has a long email list, there was no actual way for anyone to get on it without talking to the church secretary. We knew that having a solid email marketing tool would be helpful to the church as they frequently send out prayer requests,  event updates, and other announcements via email.
We realized that email marketing for small organizations could be done just as well from within WordPress as with an external provider like Mailchimp. We set them up on MailPoet, which can be operated natively within WordPress to create newsletter emails, and even has its own email delivery service attached to it.
"Our church needed a web site so our message could be available to those looking for a church in our area, that would not only be available to attend, but also available online. The website designed for us accomplished both.those things. Matt made it easy to develop what we wanted and he has been available to answer questions as they have come up. I would recommend his company to develop your website. Grace Community Lutheran Church."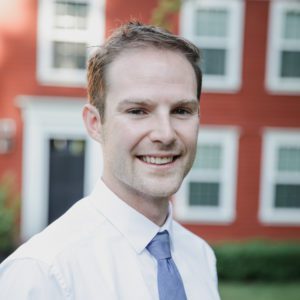 Get a Church Website Like This
Want to partner with us to create a church website that attracts individuals and families that are new to the area or are otherwise looking for a church. Book a discovery call with Matt so we can learn the needs of your organization.